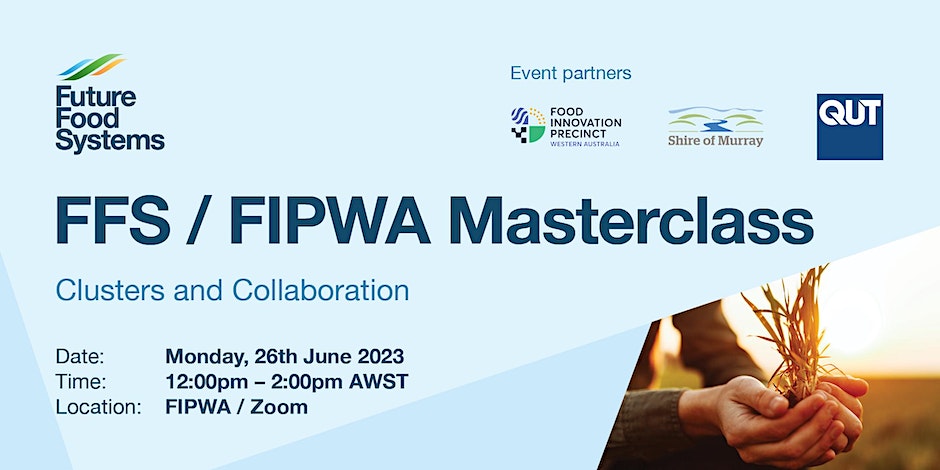 Join Future Food Systems CEO Dr James Krahe at FIPWA for Masterclass Monday Clusters and Collaboration on Monday, June 26.
Register now: FFS / FIPWA Masterclass Tickets, Mon 26/06/2023 at 12:00 pm | Eventbrite
Join Future Food Systems (FFS) and program partners as we bring you the first edition of our Masterclass series at the state-of-the-art Food Innovation Precinct Western Australia (FIPWA), located in Stake Hill.

Designed to educate, inform and ignite collaborative and innovative thinking amongst agrifood industry stakeholders, the Masterclass series will focus on a number of trends, game-changing research, latest technologies and tackle a number of topical matters affecting Australia's agrifood sector. Delivered by field specialists in research and industry, this educational series will arm participants with the knowledge, tools and connections to help propel their business forward and become adaptable in a constantly changing environment.
This Session
Our first Masterclass will focus on Clusters and the importance of collaboration to help solve challenges and how combining efforts can spark innovation, leading to the development of new products, along with playing a key role in creating healthy competition and progressing Australia's agrifood sector.
Discover the benefits of research, government and industry working together. Hear from experts in clustering, learn from real-world examples and how facilities such as FIPWA provide a platform for collaboration.
If you are an SME within Australia's agrifood sector looking to advance your business then this series is a must for you.
Workshop
This Masterclass session will be followed by an in-person workshop on (date TBA), to enhance participants' skills and provide group / one-to-one training to further boost their collaborative mindset.
Speakers
Dr James Krahe | Future Food Systems (FFS)
James is the Chief Executive Officer of Future Food Systems CRC. A cluster advocate, James has vast experience in coordinating cluster networks within the agrifood sector and driving collaboration amongst industry, government and research.
Randall McHugh | Queensland University of Technology (QUT)
Randall is from the School of Architecture and Built Environment at Queensland University of Technology and is an expert is cluster ecosystems, developing several papers on clusters including Australian agrifood hubs (FFS publication).
Gillian (Gilly) Johnson | Mid West Food Industries Alliance
Gilly is the Executive Officer of Mid West Food Industries Alliance – the first food industry cluster in Western Australia. Gilly is a passionate and experienced mentor working within the agrifood sector and has a personal and professional interest in resilience and the role it plays in our growth and development as individuals.
Rachel Cofrancesco | RC Consultancy
An accomplished executive in strategy, governance and risk, Rachel is a skilled professional with years of experience working within Australia's agrifood sector, including clusters. Rachel has in-depth knowledge of clustering, playing the role of both networker and driver.
Master Class Partners:
FIPWA | Shire of Murray | QUT