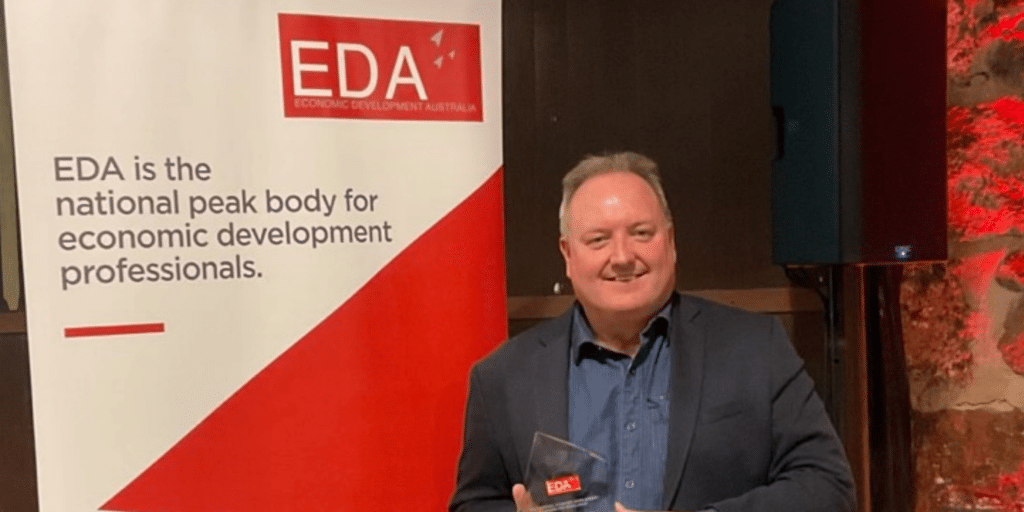 The Shire of Murray has been awarded the national award for Excellence in Economic Development Through Partnerships & Collaboration, at the 2023 National Economic Development Conference (NEDC) held in Karratha, for establishing the Food Innovation Precinct Western Australia (FIPWA).
Shire CEO Dean Unsworth was thrilled to accept the award at the conference, which was aptly themed Evolution of Value – The Future of Economies saying, "the launch of the FIPWA earlier this year is a game changer for the Peel region that will further enhance the agri-food sector through value addition economically, while also growing the much-needed human capital".
This is the second year the Shire has been a national finalist in this category that recognises strategies where economic development outcomes are the leading factors and basis influencing the approach adopted.
Shire of Murray President, Councillor David Bolt, was thrilled at the achievement and said it justifies the hard work applied by many partners and supporters.
"I am proud of our council for the innovation that it applies in many areas. By looking outside of the normal local government box, we are taking a strategic approach to progress our goal of industry diversification and are driving long term economic opportunities for our Shire," said Councillor Bolt.
Speaking at the Economic Development Awards for Excellence Gala that concludes the 2023 National Economic Development Conference (NEDC), Mr Unsworth offered his congratulations to fellow finalists Alexandrina Council and City of Monash.
'Growing Regional Ecosystems (GREco)' is the mission which the Shire of Murray is delivering through the activation of the State's first Food Innovation Precinct WA (FIPWA).
"I must acknowledge the partnerships that significantly contributed to the conception and creation of FIPWA as we know it, which is Western Australia's only centre for agri-food innovation excellence," Unsworth said.
"Realising the economic outcome through FIPWA will rely on multiple partnerships and collaborations which to date have encompassed the Australian Government supporting the physical build and the WA Government for partnering with academia to deliver the Food Technology Facility."
As part of the intergenerational economic transformation program, Transform Peel, FIPWA is set to be a strategic gateway to achieving agri-food innovation for the State adopting a smart specialisation and place-based ecosystem starting in the Peel region.
"Embracing newer forms of agriculture combined with the opportunity to drive innovative product development for export markets powered by an industrial scale solar micro-grid will drive future economic growth," Unsworth said.
"Given the Shire's success working with partners and collaborators to develop and deliver on FIPWA, we are now embarking on the next stage of growth and innovation exploring the feasibility of creating a commercial scale Murray Future Foods Facility."