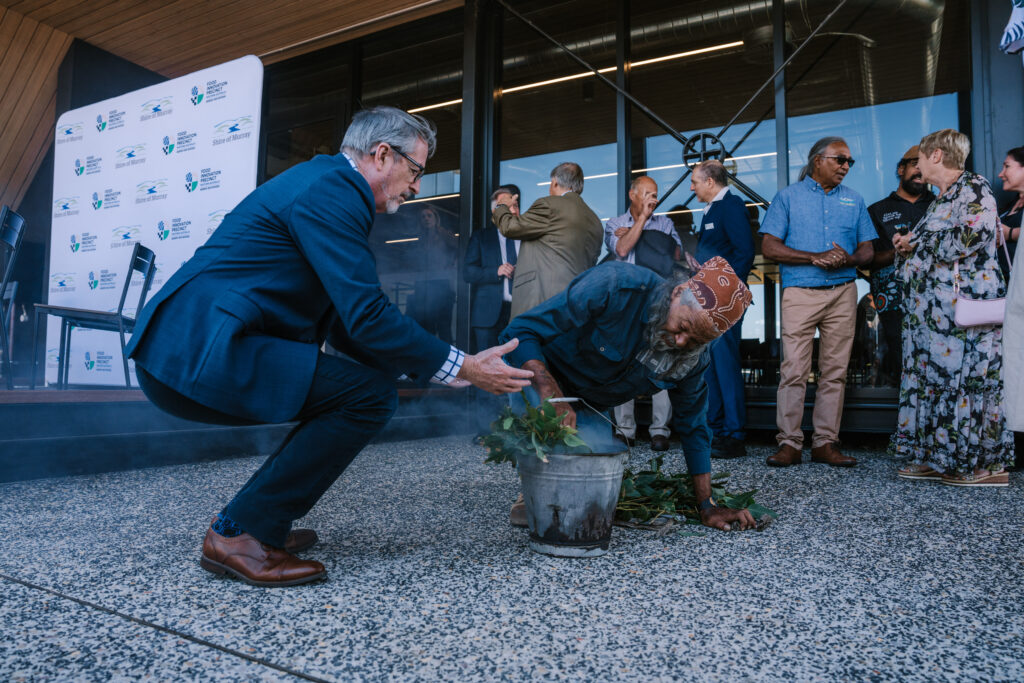 In 2022 Bindjareb Elders gave Food Innovation Precinct Western Australia the Noongar name 'Mereny Bidi Boodja'.
'Mereny Bidi Boodja', meaning 'Food, Pathway, Country', was selected after the Peel Development Commission liaised with respected Bindjareb Noongar Elder George Walley of Mandjoogoordap Dreaming to consult other Elders on Bindjareb Country about a dual name for FIPWA. The name was fully endorsed by the Shire of Murray.
At the official opening of FIPWA Mr Walley spoke of how his discussions with Elders about their views, life experiences and memories to develop a cultural narrative helped inform the name. He performed a Welcome to Country that was informative and moving. Mr Walley was joined by Franklyn Nannup to conduct a Smoking Ceremony.
FIPWA is located within the Peel Business Park, with the dual name, 'Nambeelup Kaadadjan', the name combines the estate's location in Nambeelup with the Noongar word for knowledge and information, in recognition of its role as a centre for innovation and learning.
The other key site within the park that was also given a Noongar name – the Department of Fire and Emergency Services Bushfire Centre of Excellence, is known as 'Karla Katitjin', fire knowledge.
These important insights created a cultural narrative of the local area, the precinct was recognised as a place where business, industry, training, research and development come together to invigorate the region. This philosophy mirrors the Bindjareb Noongar people's beliefs and values in the sharing of information and knowledge.