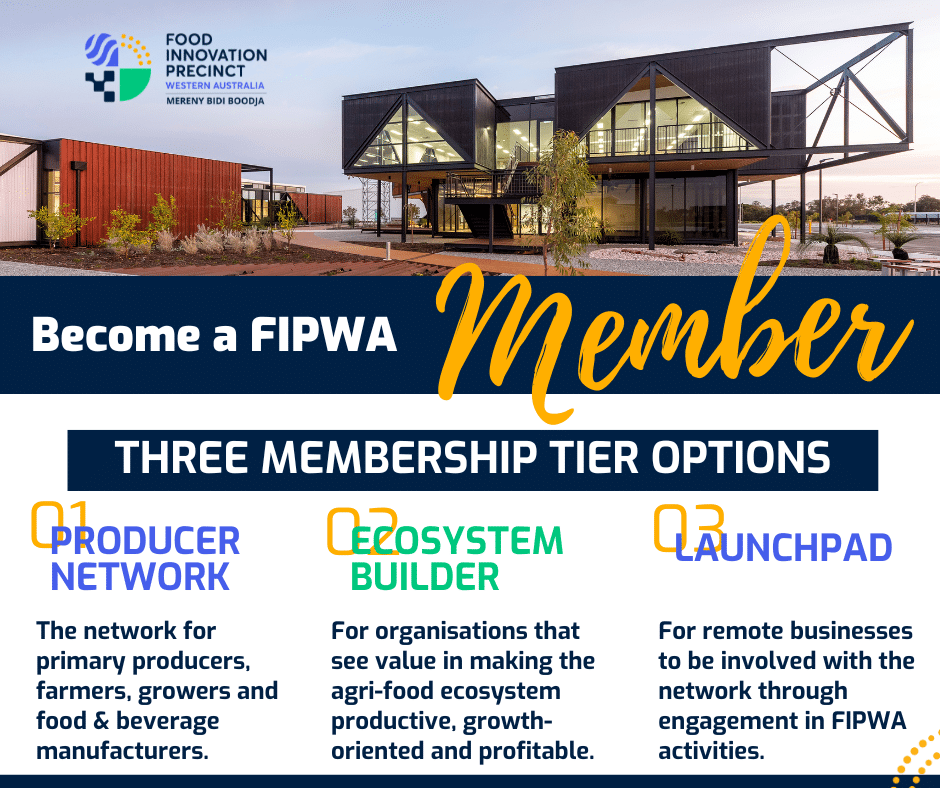 The Shire of Murray's Food Innovation Precinct Western Australia (Mereny Bidi Boodja) has announced the next stage in its ambitious plans to be a centre of agri-food innovation excellence.
The Precinct already has a suite of partners that are renting space in the complex including Murdoch University, The GrowHub Innovations Company, Future Food Systems CRC and Spinifex Brewing Co.
This next phase of development sees the launch of membership tiers that allow WA businesses with an interest in the agri-food space to have a seat at the heart of FIPWA's ecosystem.
FIPWA General Manager Dr Chris Vas said "FIPWA was always conceived as a hub and spoke model, with the Precinct acting as the physical heart of the project, but with connections to the thousands of primary producers, growers, farmers and support industries that make up the sector across the state and country."
The new membership tiers mean businesses with an interest in the agri-food ecosystem, food innovation and research, and seeing the industry grow and be profitable can now access the full FIPWA network.
There are three tiers of membership:
1)      Producer Network: For primary producers, farmers, growers and food and beverage manufacturers.
2)      Ecosystem Builder: For businesses and service providers that see value in making the agri-food ecosystem productive, growth oriented and profitable. Technology providers, equipment manufacturers, trade and distributors, investors, government are also welcome in this tier.
3)      Launchpad Seeker: For businesses that cannot physically engage by virtue of their geographical location i.e. in WA regions, overseas or elsewhere in Australia, but who see value in being part of the network through engagement in FIPWA activities. The notion of a 'launchpad' also extends to youth or the student community who seek to launch their careers in the agri-food industry.
Businesses or individuals who take up a membership will have access to an exclusive suite of programs and services that will facilitate collaboration across agri-food stakeholders, and provide supporting resources to ensure progress, growth and success for businesses.
An example of these programs include:
·       Masterclass Mondays – Expert-led discussion forums e.g. in collaboration with FIPWA partners such as Murdoch University/Future Food Systems CRC and other business experts on finance, legal, marketing etc;
·       Technology Tuesdays – Weekly technology-focussed showcases to raise awareness, understanding and to demystify opportunities for WA agri-food industry through trials and pilot projects
·       Workshop Wednesdays – Problem-oriented workshops for members to tackle real business problems e.g. reverse pitch from businesses to the ecosystem seeking solutions
·       Trading Thursdays – A market-access-oriented discussion that raises issues such as market/consumer intelligence, access to buyers (domestic and overseas) etc
·       Foodie Fridays – Led in collaboration with food manufacturers e.g. those accessing the Food Technology Facility at the FIPWA or working with the test kitchen and sensory labs at the FIPWA Research & Development Centre
Launch pricing depends on the membership tier, and also includes an additional option of a private serviced office option for those wanting to physically base themselves in FIPWA full time.
Producer Network and Ecosystem Builder: $250 per month per person, or $400 per month for up to 4 people
Launchpad Seeker: $125 per month per person, or $200 per month for up to 4 people
Private Serviced Office Option: From $800 per month
Membership of the Producer Network or Ecosystem Builder tiers also include:
·       Select FIPWA Innovation Centre programmes
·       Opportunity to interact with FIPWA members from the other two categories
·       Access to co-working space including a hot desk at the FIPWA Innovation Centre
·       Preferred access to meeting rooms and conference centre at the FIWPA
·       Access to high speed internet, printing and scanning facilities as well as an onsite cafe
·       Free parking on site
Membership of the Launchpad Seeker tier includes:
·       Select FIPWA Innovation Centre programs
·       Opportunity to interact with FIPWA Innovation Centre members
·       Two-day access pass to a hot desk at the FIPWA Innovation Centre
FIPWA continues to offer its Enterprise Support Program (ESP) which is a $3.85M competitive grant program set up in partnership between the Shire of Murray, DevelopmentWA and the Department of Primary Industries and Regional Development (DPIRD), who contributed $2.5M. Members requiring financial support to access these services and facilities may be eligible to apply for funding from the ESP.